Custom Systems and Controls' ROBOKIT is a pre- engineered platform for SCARA robot cells. We can help you build a platform to suit your automation needs, saving time and money on design and fabrication.
Using our modular components we can provide solutions ranging from a single steel frame to a fully enclosed, multi-cell machine.
ROBOKIT provides the fundamental building blocks for your project and lets your engineers do what they do best... implement your process and develop your product.
The ROBOKIT full enclosure unit comes standard with the following:
• 3" Welded steel frame
• 1" Aluminum top custom machined for your application
• Enclosure made from aluminum extrusion
• Heavy duty aluminum drawers
• Mounted SCARA robots from your choice of manufacturer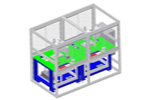 • Safety interlocks and E-stop operator
• Internal power distribution with line filters
• Class 2 safety circuit design and wiring
• Robot end effector design and fabrication
• Full schematics
• "Proof of concept" robot programming
• 19" Touch Screen monitor and mount
• Key board, mouse and shelf
• Assembly and test of the ROBOKIT
• Optional computer