ASPHALT WEB - DEFECT INSPECTION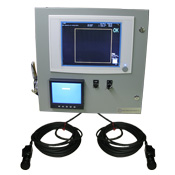 Customer Need
A roofing material manufacturer had a product that wasn't meeting specifications in comparison to other manufacturing sites and wanted to implement an inspection process to assist with their quality control. The requirement was to inspect for the presence and spacing of multiple glue strips on their web.
Solution
CSC mounted two 5MP monochrome cameras above their line to inspect it as it was passing through. The tricky part about the inspection was to get the lighting correct. CSC engaged in a preliminary vision analysis to determine if and what lighting conditions would allow for the required inspection. The conclusion of the initial analysis was that proper lighting conditions can be accomplished, but wouldn't match similar setups that other plants were running. However, the proposed system could be configured to match the current layout.
System Components
Keyence XG Controller
5MP Monochrome Cameras
Success
This project was an accomplishment in that it increased product quality and was able to assist the company in minimizing returns from consumers as well as increasing their satisfaction surveys. After the success of the first system, they client ordered and had a second system installed.