MEDICAL DEVICE - COMPONENT WEAR TEST SYSTEM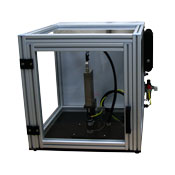 Customer Need
A medical device company was experiencing a high failure rate on a component in one of their handheld electronic devices. A small metal part was breaking and they wanted a system to test the integrity of it prior to using it in device.
Solution
CSC designed and fabricated a bench top system that used a linear/rotary voice coil actuator to press and rotate a probe around the coated surface of the part to simulate its intended function in the overall device. Rotary force (torque) is measured by the actuator as an indication of friction and thus the condition of the coating. A torque sensor is also incorporated to independently measure the torque being exerted on the part by the actuator.
System Components
Fanless PC
SMAC Linear & Rotary Actuator
SMAC Dual Axis Controller
Success
The system was successfully delivered to the customer on time and on budget. The implementation resulted in them being able to prevent ineffective parts to be used in the assembly process, which led to fewer repairs and an increase in profit.